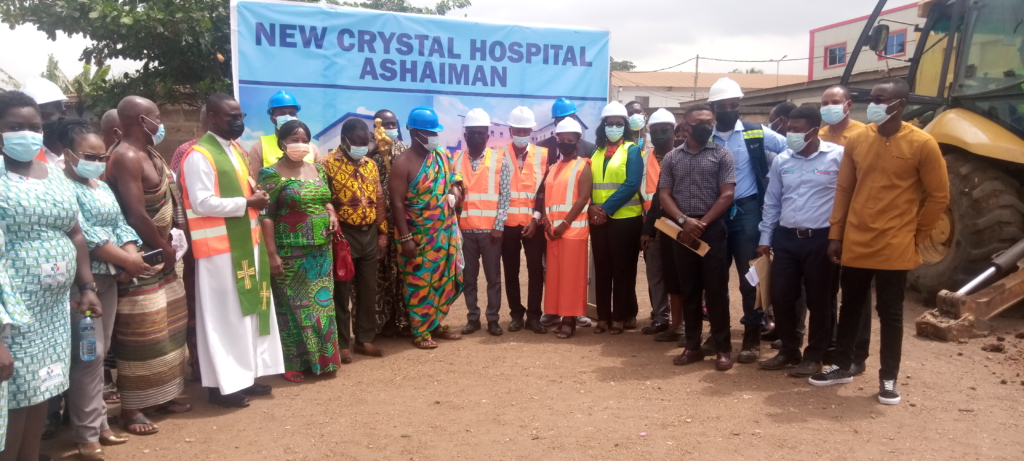 Taxes are killing private health facilities – Government says
New Crystal Health Services Managing Director Dr. Wisdom Amegbletor is calling on the government to remove tax items on imported medical equipment.
According to him, private health facilities are struggling with taxes; making it difficult for them to provide sustainable health care.
In his view, granting a tax refund to healthcare institutions will go a long way towards improving healthcare delivery and business reinvestment.
Dr Amegbletor revealed this after he inaugurated the construction of a 100-bed hospital in Ashaiman.
The ceremony was also to begin work on the expansion of New Crystal outlets at a cost of $7 million.
"Taxes are killing us. We pay 25% and that makes it difficult to import medical equipment to provide quality service. It must be zero-rated to help us," he lamented.
For Dr Amegbletor, secondment of staff is also a challenge.
"The government trains and deploys all personnel. For a doctor or a nurse to leave the public sector, you have to be prepared to pay more than they earn," he said.
According to him, the 100-bed hospital will provide primary, secondary and tertiary health care.
He said there are instances where cases are referred to Tema General Hospital but are sent back to New Crystal while hospital staff try to get a bed at Greater Accra Regional Hospital, or at 37 Military Hospital or Korle Bu University Hospital.
The $7 million project includes the construction of a 50-bed facility in Michel Camp, a 100-bed facility in Ashaiman and the upgrading of Afenyo Health Facility into a 40-bed capacity hospital .
The New Crystal branch in Tema will be demolished and replaced with an 80-bed capacity hospital, while the Adjei Kojo facility will now have a 30-bed capacity.
When completed, the 100-bed hospital will provide an ambulance dispatch centre, trauma and emergency center in addition to a general OPD and inpatient care units.
Again, there will be a pediatric unit, an oxygen plant, a blood bank, among others.
Concluding his address, Dr. Amegbletor highlighted some chronic non-communicable diseases that kill around 90,000 people each year.
He said urgent attention must be given to bringing these diseases under control.
For his part, the municipal director of health, Patience Ami Mamattah, called on everyone to support the health care providers who play a key role in the region.
Ashaiman Municipality Chief Executive Albert Okyere said the Assembly will provide an enabling environment for the development of private health facilities as the government improves health infrastructure in the region.
"Your vision is directly in line with that of the Municipal Assembly which is to make Ashaiman a livable city 24 hours a day as well as a safe environment," he added.
Ashaiman's regent, Nii Annan Adjor, also praised New Crystal for the project.
The healthcare provider is securing a $2.5 million loan facility, advice and other technical support from the International Finance Corporation (IFC).
ECOWAS Director of AMPC Int. Health Consultants, Liliane Mpabanzi said they were happy and proud to be part of New Crystal's journey.
Equity Partner, Investors and Partners represented by Baafour Otu-Boateng ensured continued support to NCHS to make the facility a shining example in Ghana.
Meanwhile, Sawer Nanor and Sons Company Limited, as the contractor for the 100-bed hospital, will engage labor from Ashaiman to undertake the project.