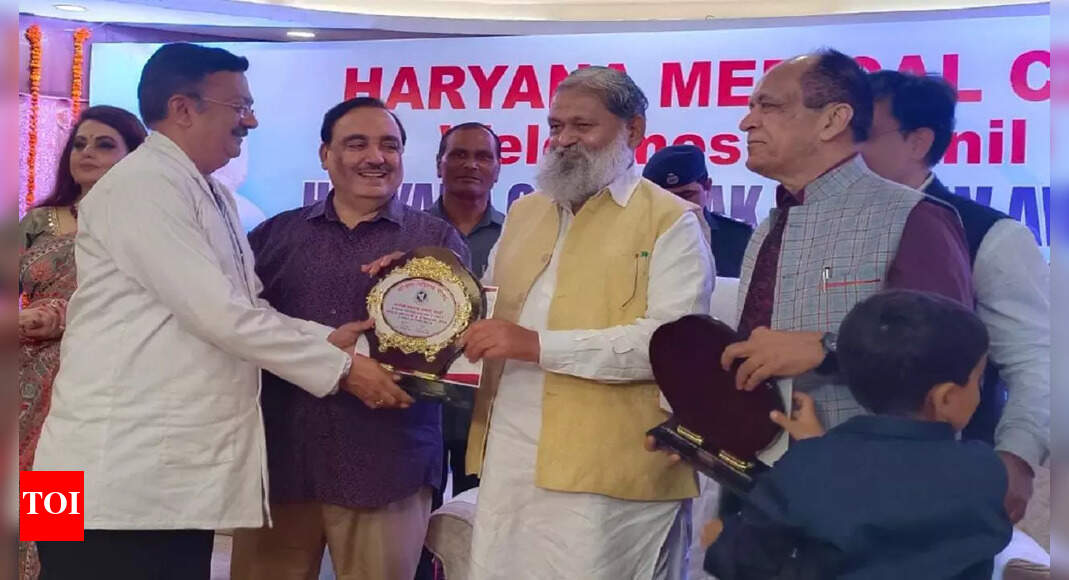 No Lives Should Be Lost Due to Lack of Medical Care: Anil Vij, Haryana Minister of Health | Chandigarh News
Vij said this while speaking at an event organized by the Haryana Medical Council (HMC) in Ambala City on Sunday
AMBALA: Minister of Home Affairs and Health of Haryana Anil Vij said on Sunday that the government was working towards the goal that no one should die due to lack of medical care and that its goal was to provide better health facilities in the state.
Vij said this during a speech at an event organized by Haryana Medical Council (HMC) in Ambala City on Sunday, to honor doctors and hospitals with Haryana Chikitsak Gaurav Award.
HMC gave different awards to doctors and hospitals like the best doctor and the best hospital in the event, in which, civil hospital, Ambala cantonment got the award for the best hospital, while the same from Panchkula occupied the second and third positions respectively.
Anil Vij said: "During the Covid-19 pandemic, doctors, along with paramedics and others, have worked tirelessly to save millions of lives, regardless of their own lives. After testing positive for coronavirus, my health deteriorated, but the doctors saved my life. I salute the entire medical community. Sincere efforts are being made to improve sanitary facilities. In 2014, the state health budget was Rs 1,700 crore, we increased it to Rs 6,500 crore.
"Encouraging people is also very important because if they are not encouraged, they are disappointed. Encouragement works as a booster shot. Every department should encourage those who do a good job. Thirty awards have been announced in the department of origin, of which 10 can be awarded by the Chief Minister, 10 by the Minister of Interior and 10 by the DGP. The awards are given for good performance, good investigation and bravery. Along with the award, there is also a provision for a six-month extension as well. Discussions are ongoing as to whether such awards should also be given by the Ministry of Health," the minister said.
FOLLOW US ON SOCIAL NETWORKS
FacebookTwitterinstagramKOO APPYOUTUBE