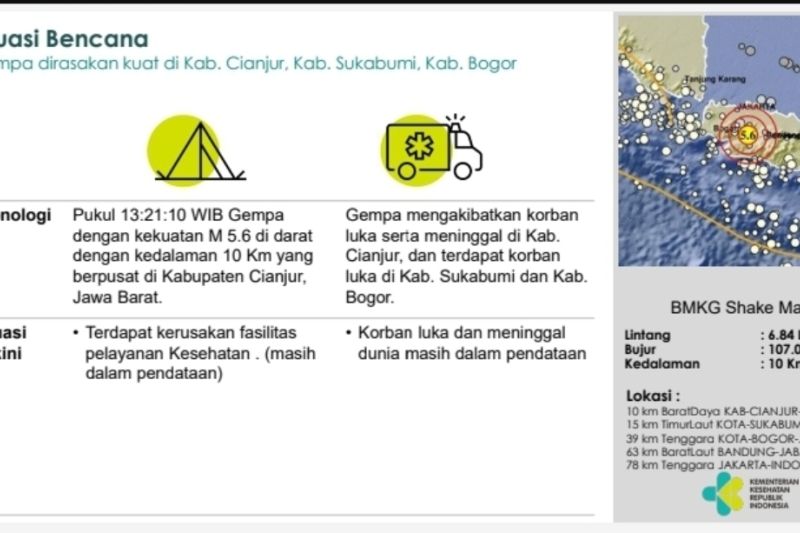 Ministry sends health workers and aid to earthquake victims in Cianjur
Services continue to be offered to victims. Some health service facilities there are damaged and the ministry continues to collect the data
Jakarta (ANTARA) – The Ministry of Health has sent health workers and logistical assistance to Cianjur in West Java, which was hit by an earthquake on Monday.
"Services continue to be offered to the victims. Some health service facilities there are damaged and the ministry continues to collect the data," ministry spokesman Mohammad Syahril remarked on Tuesday.
In addition, the ministry has mobilized several health workers from various medical fields, including 22 health workers and an ambulance from the port health office; 26 health workers and three ambulances from Hasan Sadikin Central General Hospital; and three surgeons, a medical team and an ambulance from the Indonesian Orthopedic Association (PABOI).
In addition, three orthopedic surgeons and five officers from the Public Security Center 119 are involved.
Related News: Prioritize evacuation of earthquake victims in Cianjur: Jokowi
The ministry has also mobilized health logistics, such as frame tents, folding beds for transporting patients (velbed), health emergency operations center (HEOC) operational kits, medicines, masks for adults and children, personal protective equipment, oxygen concentrators, emergency kits, latex gloves, body bags and other necessities.
Meanwhile, Syahril said the 5.6 magnitude earthquake that struck Cianjur and surrounding areas left hundreds injured and dead.
Data from Statistics Indonesia (BPS) on the population of Cianjur showed that some 169,000 people have been affected and currently 5,000 evacuees are scattered at several points.
Related News: All 38 Cianjur earthquake victims referred to R Syamsudin SH Hospital
The Department of Health is also implementing an emergency management triage procedure. Slightly injured victims requiring hospital treatment can be treated at Cimacan Hospital and Dr Hafiz Hospital.
Patients with moderate injuries are treated at Bhayangkara Hospital and TNI (Indonesian Military) Field Hospital.
Meanwhile, patients requiring immediate treatment due to critical conditions and requiring major surgery can be offered treatment at Hasan Sadikin Hospital in Bandung, Bogor General Hospital and Sukabumi Hospital.
Related News: Minister Quumas asks for the prayers of the people for the victims of the Cianjur earthquake
Related News: Cianjur earthquake victims will receive housing assistance from the governor of C Java