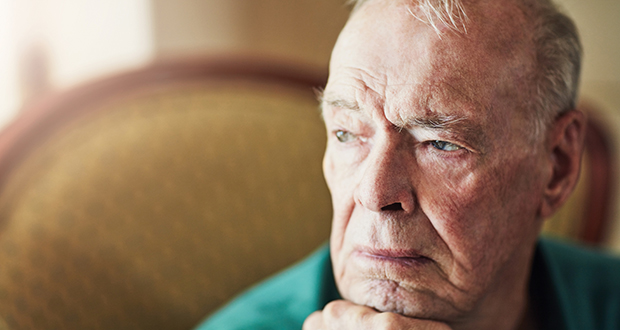 Medical care in nursing homes – a lot done, there is still a lot to do
What is the role of the general practitioner in the provision of nursing home care, asks Dr. Brendan O'Shea
Jhe care home sector has come under intense scrutiny from the start of the Covid-19 pandemic two years ago, and has been the subject of two inquiries, and a lot of committee time. afterwards. Depending on where you draw the line, there are about 29,000 beds in that area. It has been heavily subsidized through taxation (benefitting developers directly) and the Fair Deal Scheme (benefiting developers indirectly), and unsurprisingly the sector has grown considerably over the past 10 years.
It's important because it's where many of our frail and complex seniors are cared for within our health care system. It should be noted that in Ireland, once admitted, people stay in nursing homes much longer than in neighboring health systems (particularly in Scotland for example), and in Ireland the length of stay is generally around 22 months.
This poses difficult questions. Are we admitting too many people, for too long, to congregate nursing homes? Is this another manifestation of insufficient funding for community social care? And what is the perspective of GPs who are integral to providing medical care in our nursing homes?
The entire industry is divided along several axes, which makes it even more difficult to understand. About a third of the beds are in the care of the HSE ('Public Beds'), and many of these have GP input through an old and entirely 'unfit for purpose' contract . The rest is in the private sector and there is a very wide range of 'arrangements' with local practices. A minority are cared for directly by gerontology during the day and aspire to model care, with additional resources, but remain totally dependent on general practitioners for out-of-hours care – which accounts for two-thirds of the time , in any country. the week.
What does the evidence say about the contribution of general practitioners? He says rather uncomfortably that where most care home residents are in the care of a GP or practice, the care is significantly better. This is at odds with the right of choice of doctor, and we are a little uncomfortable handing over our patient to another GP when admitted to a local nursing home.
But the flip side is that, thanks to a cumbersome, largely paper-based administrative process, courtesy of the HSE, and the complexity of looking after complex older people well, there is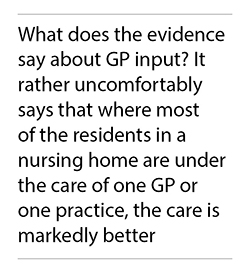 a lot of work needed to do this well. The base CASP capitation rate coupled with the chronic shortage of human resources makes nursing home involvement an undesirable burden, to be avoided, on many practices. So what do we do about it? What can we do there?
Ideally, having most care in a nursing home provided by a practice is the best case scenario, based on the evidence (see reports in 2018 from the Nuffield Trust and Kings Fund).
Incidentally, from the point of view of practice, it is also a better experience for the practice that provides. This allows the practice and the nursing home to become more integrated, developing better relationships between the nursing home team and the treating GP(s) .
This adds efficiency, is professionally more satisfying for everyone involved, and results in better care. Better care is particularly evident in the reduced number of transfers to the acute care hospital and, when they occur, this also leads to earlier discharges.
It also includes better and safer prescribing, better end-of-life planning, and avoidance of acute emergency transfers in palliative or terminal care settings, which are known to be extremely distressing for everyone. Newer, newly built nursing homes are often located in remote parts of the neighborhood (cheaper land) and staffed by largely bright and hardworking teams of nurses, in a somewhat marginal existence that is the norm that applies to most people who migrate here to work. It's another challenge that will take time to resolve, but trying to make it work with seven or nine GPs visiting the nursing home certainly doesn't help. Younger GPs are often very reluctant to get involved.
What have we done?
ICGP has led a Special Interest Group (SIG) made up of members of the College for Nursing and Residential Care Homes since 2017. Initially, he affirmed the idea that while home nursing was not a majority interest among most GPs, there was a significant proportion of us, numbering around 300, for whom home care Home nursing was an important part of our professional life. Initially, the SIG held a series of exceptionally well-attended and dynamic workshops at ICGP meetings. A part-time editor has been appointed (Doctor Paul Ryan), and this resulted in several quick reference guides (eg on optimizing prescribing in this care setting), as well as an audit cycle model for improving end-of-life care.
The GIS was initially led by Dr Brian Meade, and lately by Lucinda Dockery. It met regularly in the years that followed. GPIT has been approached and has produced a very useful discussion paper on the development of electronic medical records for the sector, and the SIG recently participated in a HIQA exploration regarding the development of electronic medical records for the sector.
The GIS has secured funding from the HSE to set up a blended learning course to improve medical care for the elderly, which is due to have its first intake before the end of 2022, with Dr Dockery leading the way , and a detailed course curriculum designed for well-developed busy generalists. The SIG has participated effectively, representing the interests of patients and general practitioners, in the two ministerial investigations resulting from the pandemic.
The SIG has also collaborated informally with SAGE and with the Irish Hospice Foundation on how future care could be improved, and has well developed ideas on what needs to be done next. From an educational perspective, the GIS reports to the governance of education at ICGP and has had the constant support and guidance of the College leadership team throughout.
The issues that still need to be resolved relate to the question of financing the essential input of the general practitioner, which is a question twice as difficult as it appears at first glance, and for this classic reason – there is the public care home sector, largely under the HSE, operated on the 'old contract', and then there is the new private sector, which is keen to have a good GP contribution at the most cost possible low. Informal approaches to the IMO in these very difficult years (Do you remember the reversal of FEMPI, and against all expectations the establishment of the CDM Program, then the pandemic?) confirmed the interest of the 'IMO, but we also recognize that nursing home medicine is a minority interest among a smaller proportion of particularly dedicated GPs. But we're cautiously optimistic that could change soon.
The HSE and the private nursing home sector (represented by Nursing Homes Ireland) want to ensure good input from GPs. Apart from better care for people residing in nursing homes, within GIS it is evident that many GPs can, do and are quite capable of providing more advanced practice in end of life planning. life, in the management of less complex admissions, and rise well beyond the administrative noise of ticking boxes on HSE/HIQA paper, which is currently an inescapable feature of the engagement of general practitioners in this sector of care .
Key findings from the departmental reports include a wish from the HSE for standard GP input, as we already do, but also the involvement of a GP in the overall governance of nursing homes – this is likely to be of two quite distinct roles, and/but the pandemic has clearly the attention paid to this sector, well mastered, can prove beneficial for both patients and their general practitioner.
So, do general practitioners have a role to play in medical care in retirement homes? Between what we do in our wonderful off-hours GP co-operatives and what a smaller proportion of us do by regularly attending local nursing homes, in my view it is likely that people residing in nursing homes also want and will benefit from the continued and developed contribution of general practitioners.
But what do you think?
The GIS is discussing this critical topic at the next Rural WONCA Conferenceat UL, during a dedicated session in the fabulous UL campus, from June 17 to 22, which globally explores the great theme "Improving health – Empowering communities".
How could you miss it?