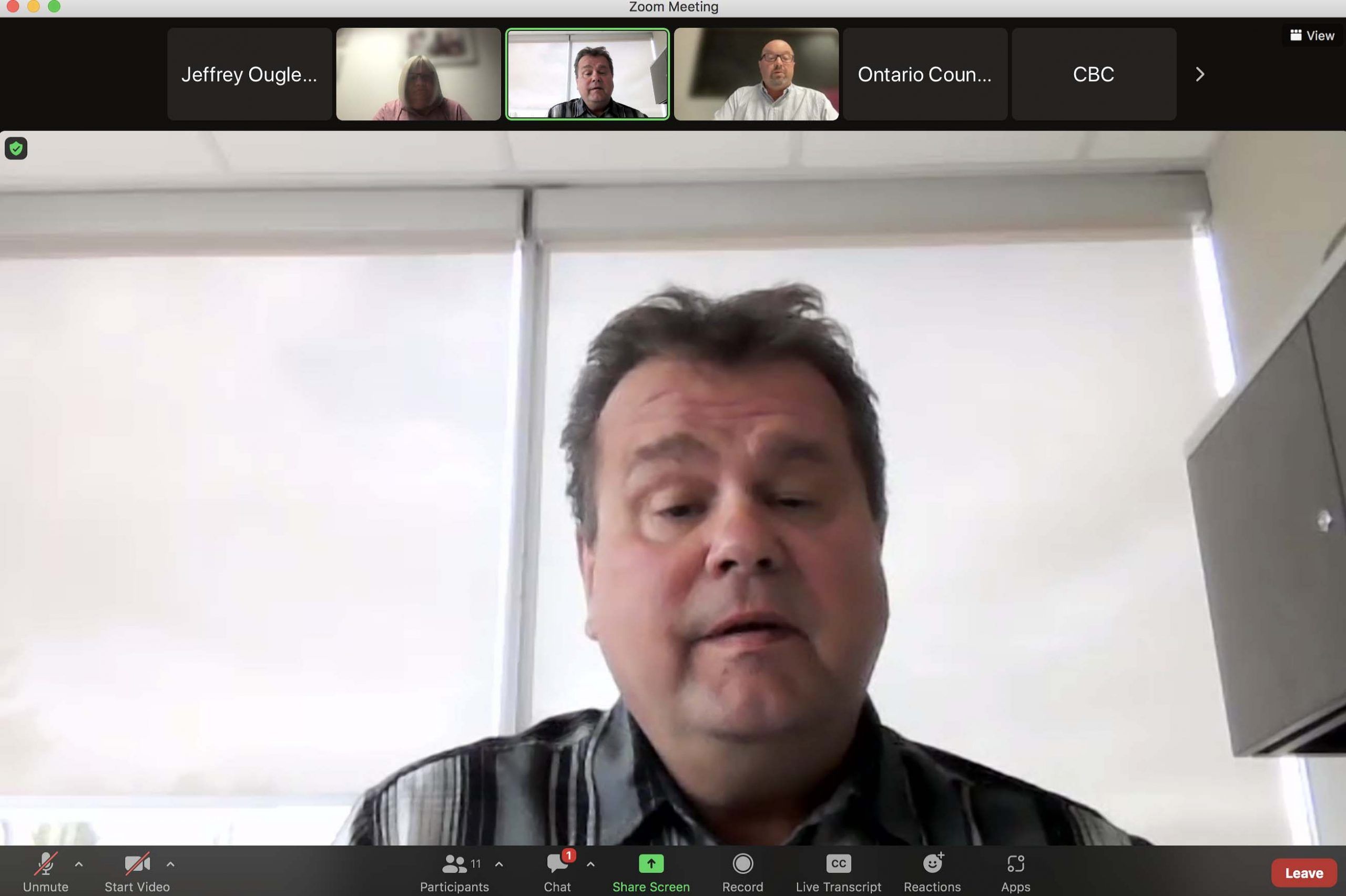 CUPE and Unifor say healthcare workers toil in 'toxic' environment
Survey finds more patients, others bringing guns to hospitals
Content of the article
Airtight airport-style security system installed at Sault area hospital entrances?
Content of the article
It's not a far-fetched concept to some, considering that patients and others were discovered there wielding knives and, in one case, a hatchet.
"I don't think anything should be ruled out," said Andy Savela, Unifor's director of health care.
"These are very serious things we are talking about…weapons are being brought into an acute care hospital."
Savela said Tuesday at a virtual press conference, organized by health unions to highlight what they call a "pandemic surge" in violence at hospitals in Northern Ontario, workers here and elsewhere are facing an upsurge in physical attacks and threats. He cited SAH staff assaulted earlier this month by a patient who threw an oxygen cylinder and made threats; criminal charges were laid.
"They got hit, they got punched," Savela said. "Weapons were brought into the workplace, knives and in one case even a hatchet.
"This cannot be accepted."
In response to a question from the Sault Star, Savela said such incidents of violence "will not be tolerated" and that those who commit such offenses must face "serious consequences."
"In terms of what action can be taken, I don't think we can go far enough," he said. "Everything has to be on the table. These are very serious incidents.
"With the staffing crises we are facing at the moment, we can no longer lose healthcare staff, especially because they are afraid to come to work."
The HSA is not alone in facing such challenges, suggests a recent survey of more than 2,300 licensed practical nurses (RPNs), personal support workers (PSWs), cleaners and cleaning staff. office and dietetics, among others working in dozens of Ontario establishments.
Content of the article
In fact, 28% of respondents in the region reported an increase in the use of firearms or knives against staff. This is 10% more than the provincial average of 18%.
"This is where we need to focus some of our efforts and energy in order to bring about change so that hospitals can provide the services they desperately need and protect the healthcare workers who have worked so hard during the crisis. pandemic to try to take care of our needs," Savela said, adding that current negotiations with a number of Ontario hospitals have seen proposed language suggesting an "in-depth" discussion about violence and how to deal.
A recent Oracle Research poll for CUPE shows a "worrying" pandemic surge in physical and sexual violence against hospital staff, who in northern hospitals are 91% women.
Meanwhile, 53% of all categories of northern hospital workers surveyed experience sexual harassment and 38% sexual assault.
"If this doesn't indicate a toxic work environment, we don't know what further evidence is needed," said Dava Verch, licensed practical nurse and first vice-president of CUPE's Ontario Council of Hospital Unions, during the the press conference. .
The survey also revealed that 60% of respondents in Northern Ontario have experienced physical violence, 65% have witnessed an increase in violent incidents during the COVID-19 pandemic, and 53% report feeling depressed and emotionally drained due to general working conditions.
Content of the article
Unions report that last fall several staff members at Lake of the Woods in Kenora, Ont., walked out of hospital due to what that administration called a 300% increase in employee harassment.
"If we are looking for an explanation as to why people are leaving health care and why hospitals have so many vacancies across all professions, at least part of the explanation can be found in this survey," said Verch.
While only 13% of the 239 licensed practical nurses (LPNs), cleaners, clerks and other staff surveyed at several Northern Ontario hospitals identify as racialized, 78% of them report being victims of harassment or abuse because of their race or appearance. . That's more than the numbers from the provincial survey in which 71% of racialized respondents reported race-based violence.
Hospitals are increasingly "toxic and dangerous" workplaces, an issue the province and hospitals need to address, said Sharon Richer, secretary-treasurer of the Ontario Council of Hospital Unions ( OCHU-CUPE) of CUPE.
This upsurge in violence against women, largely racially motivated, comes amid "a backdrop of severe staffing shortages and unprecedented vacancies" in Ontario hospitals, according to the unions.
"Hospital management must be held accountable for our toxic environment where women are beaten, sexually assaulted and racially assaulted every day," Richer said.
"We cannot turn the tide without increasing health care funding in real terms. There are not enough hospital staff and there are not enough beds in Ontario.
Content of the article
Recommendations to address violence begin with zero tolerance and must include provincial funding at least inflationary costs to increase staffing "so no one works alone" and to increase beds to help quell the " hallway care", argue the unions.
Richer said injured healthcare workers need to be better supported with increased access to mental health resources.
"They shouldn't be blamed because it happens too often," she said, adding that "whistleblower" protections need to be introduced.
"Too often healthcare workers have been threatened and fired for speaking out about this issue. The matter will not be dealt with if we do not talk about it. We need to talk about it honestly and openly. »
On Twitter: @JeffreyOugler