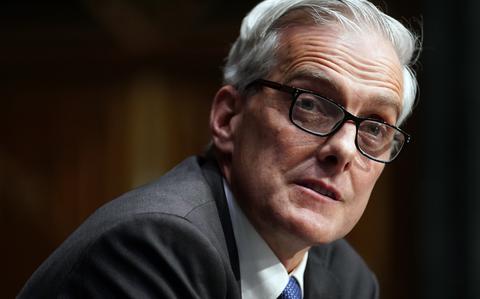 Congress Considers Separate Funding for VA Medical Care
WASHINGTON — House lawmakers began debate on Wednesday on a White House proposal to separate funding for veterans' medical care from the rest of the federal budget — a move that would treat it the same as defense spending. and could allow it to go beyond the current limits.
Discretionary spending, which is subject to the appropriations process of Congress, is divided into two categories: defense and nondefense. Congress provided $1.5 trillion in discretionary spending for fiscal year 2022, including $782 billion for defense and $730 billion for other areas of government. Of the $730 billion in non-military spending, about $117 billion went to the Department of Veterans Affairs.
In President Joe Biden's budget request for fiscal year 2023, he proposed removing veterans' health care from the nondefense category and giving it its own funding stream. The change would free the veterans' health budget from caps on non-defence spending and allow more money to be allocated to other non-defence areas, such as education, transportation and Homeland Security, VA Secretary Denis McDonough said.
"For us to continue to grow at the rate we are growing, it comes at the expense of the rest of the discretionary non-defense [spending and] makes us less efficient overall," he said.
McDonough testified before a House Appropriations subcommittee on Wednesday about the VA's budget proposal for fiscal year 2023. The proposal, released in March, would bring the agency's overall budget to more than $300 billion. of dollars.
About $161 billion of the $300 billion is mandatory spending, which includes benefit programs, such as disability compensation. Mandatory spending does not go through the Congressional appropriations process.
The remaining amount, $139 billion, is part of the nondefense discretionary budget, and about $120 billion of that amount is spent on medical care for veterans. The White House has proposed that the VA get a 20% increase in funding for medical care in fiscal year 2023. McDonough attributed the significant jump to health care inflation and an increase in demand for services .
To address the rising costs of medical care, the White House has suggested that VA healthcare receive its own funding stream, sending a message that veterans' medical care should be treated with the same importance as national defense. .
"I thought it was a very important and innovative idea from the White House, from [the Office of Management and Budget], to separate health care from veterans," McDonough said. "I think it makes sense to separate that from the larger account to highlight, as we do with defense, the unique nature and unique importance of investing in veterans' health."
The separation could be more necessary if Congress approves a sweeping measure to expand eligibility for health care and benefits to veterans exposed to hearthstones and other toxins, McDonough said. The bill has the potential to significantly increase the number of enrollees in VA health care.
According to estimates by the Congressional Budget Office, the bill could increase spending by about $318 billion over the next decade. It was passed by the House earlier this year and is currently being considered by the Senate.
Lawmakers expressed mixed feelings about separating VA medical care from the rest of the nondefense budget.
Rep. Debbie Wasserman Schultz, D-Fla., chair of the Military Construction, Veterans Affairs, and Related Agencies Appropriations Subcommittee, suggested a change needed to be made, given the historic growth of the VA budget.
The VA described its proposal for 2023 as a "historic increase in total funding". If the budget were approved as is, overall VA funding would have increased by $104 billion, or 53%, since 2018, according to agency data.
The agency is the third largest federal department in terms of budget. Only the Department of Defense and the Department of Health and Human Services are expected to receive more discretionary funding in 2023.
"There really is a lot of good news in this budget, but we can't ignore the elephant in the room, and that's the ever-increasing cost of veterans' medical care," Wasserman Schultz said. "We need to provide for our veterans, and we're passionate about that, but if we're going to continue to see these exponential increases year after year, we need to build consensus on an allocation adjustment so that other discretionary priorities don't are not affected. "
Representative Justice Carter of Texas, the subcommittee's ranking Republican, described the VA's budget proposal as a "stunning request" and said he was skeptical of giving the arranges its own funding stream.
Carter said the change would allow for more funding of other non-military agencies, which he said could lead to an increase in the budget deficit.
"The rate we're spending right now is driving us over a cliff," he said. "Setting up a situation where we inadvertently create more mandatory expenses, for me, is not a good idea. It could bring us closer to the time when we cannot pay our bills."
Wasserman Schultz suggested the subcommittee hold an "in-depth conversation" about the potential change soon.